TEMPUR - Visco-Elastic Memory Foam Original Neck Pillow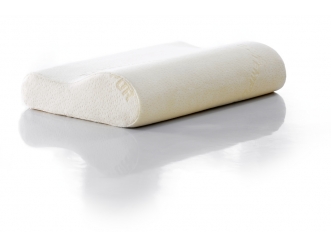 Recommended by back specialists all over the world Over 30,000 medical doctors, chiropractors, physiotherapists and osteopaths world-wide recommend the TEMPUR Neck Pillow.
Firmness: 2/10 (Comfort Soft)
Delivery Lead Time : 2 - 4 Working Days
FREE Delivery
They firmly believe in the value of the TEMPUR Material to ease and prevent back and neck problems.
The TEMPUR Pillows improve sleep by allowing neck and shoulder muscles to relax completely
The TEMPUR Pillows can relieve pain, snoring, and sleep problems. The anatomical designs in combination with the pressure relieving effects of the TEMPUR Material, provide maximum comfort to the neck area, allowing neck and shoulder muscles to relax completely.
Moulds perfectly to the exact contours of your neck and head, giving excellent support and relief to neck and shoulder muscles.
Pillow Core
Visco-elastic temperature sensitive TEMPUR Material.
Pillow Cover
High quality velour made from a naturally cleaned cotton blend, 75% cotton/25% polyester. The cover is removable and can be machine-washed at 60c
TEMPUR Cotton Satin Pillow Cases available in Colour: Cream.

›› Select Size
TEMPUR Original Neck Pillow ::
Can't find the size you need? No worries, just call Mike at 97645063 or email
mike@sleeppost.com
to enquire on the measurements you need.
click here for Terms & Conditions
›› Add to Cart
Selected Size :
TEMPUR Original Neck Pillow : 61x 31x11.5/8.5 cm (L Queen)